SERTEST
Soft Error Rate Measurement
and Radiation Testing
Soft Error Analysis and Mitigation Solution Expert
As Single Event Effects continue to be a severe reliability threat to older process nodes and advanced nodes in large devices, IROC Technologies is providing a large offering of test services to measure these effects. Using our own EDA solutions, we can analyze and mitigate Soft Error problems from single components to large systems, in terrestrial or space environments. IROC Technologies can provide a complete turn-key solution or adapted collaborative support to address your needs.
Our team has developed expertise for more than 20 years, supporting the top semiconductor companies and foundries. We have served more than 130 worldwide customers from the automotive, medical, networking, consumer, aeronautics, and space industries. We have built strong relationships with national and international test facilities to continuously make improvements and allow us to provide the best service to our customers.
Our services include but not limited to:
Please do not hesitate to contact us for all your needs related to radiation tests. We have already performed successful electrons and muons irradiation for special projects.
IROC provides regular test slots all year round for High Energy Neutrons and Thermal Neutrons for component testing to meet our customers schedule constraints and mitigate unexpected preparation risks including Alpha Particles tests conducted in-house.
We get beam time every 10 weeks to provide test services independently from test facility operating schedules.
Customer can join a campaign at any time pending compliant preparation time (required only a few weeks prior to test if we already have a compliant test
setup). If there are any delays in parts delivery (for example test vehicles) or preparation issues, the test will automatically be postponed to the next campaign. Our shuttle campaigns also allow us to test multiple devices from different customers at the same time and manage the availability of beam time more effectively.
IROC performs independent beam dosimetry measurements to assure correct and repeatable testing.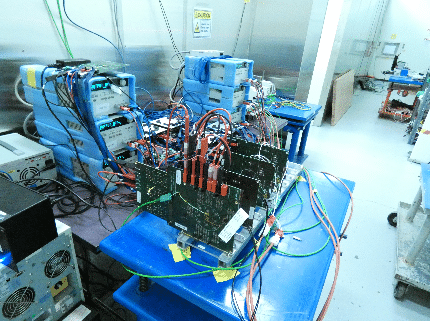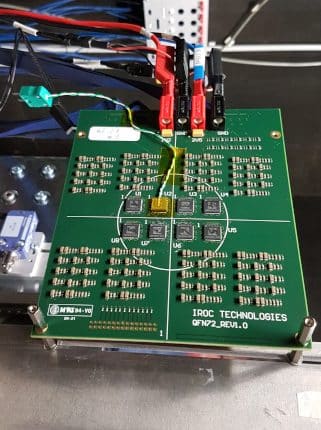 IROC offers a comprehensive testing service for a wide range of single components including SRAM, DRAM, FLASH, MCU, FPGA, SoC, Test Vehicle, etc. We provide a complete service with minimum input from the customer (device units + datasheet) to prepare and execute tests and deliver accurate results (report + error database).
We can also work with customer to reuse existing hardware/software to improve cost and/or meet technical constraints for very challenging devices.
Since component test results need to be derated to estimate impact at system level (fault propagation), this test approach can be used to obtain measured results.
We provide expert recommendations during preparation, test plan definition, campaign execution, beamtime estimation and booking, accurate dosimetry for experiments and operations in the radiation area, and reporting.